Niagara Falls is a natural wonder and tourist attraction in the province of Ontario, Canada. Every year millions of people visit Niagara Falls, to admire the breathtaking view.

If you are looking for a hotel in Niagara Falls with waterfalls view.
1. Embassy Suites Niagara Falls hotel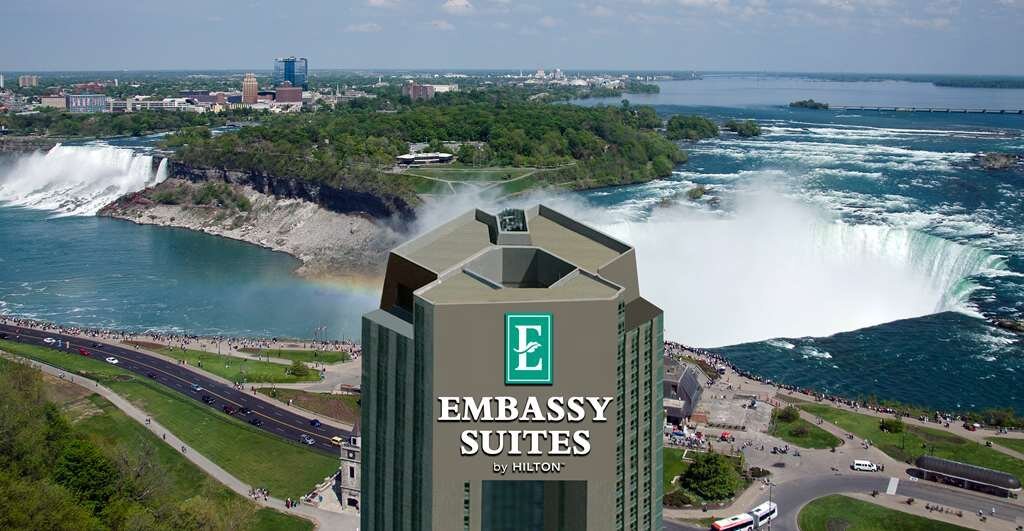 A stunning example of the modern and luxurious hotel, Embassy Suites Niagara Falls Hotel is a great choice for travelers who want to enjoy the beautiful scenery of Niagara Falls as well as the convenience of staying in a hotel with many amenities.
The best Fallsview hotel in Niagara with an absolutely spectacular view. Rooms are spacious, unlike your typical Fallsview rooms, and the top-floor suites provide the best views. This is a very popular hotel during peak season, and the complimentary breakfast includes made-to-order omelets, with the morning being such a great time to start your day.
For those wanting a beautiful view of the Horseshoe Falls, look no further. The Embassy Suites by Hilton Niagara Falls Fallsview Hotel will give you as much of the falls as possible without you having to get wet. Located in the heart of Niagara falls, this hotel offers equally spectacular views over both the Horseshoe Falls and the American Falls. You can take in these views from the comfort of your own room or while strolling along them pristine waterfront.
2. Niagara Falls Marriott Fallsview hotel & spa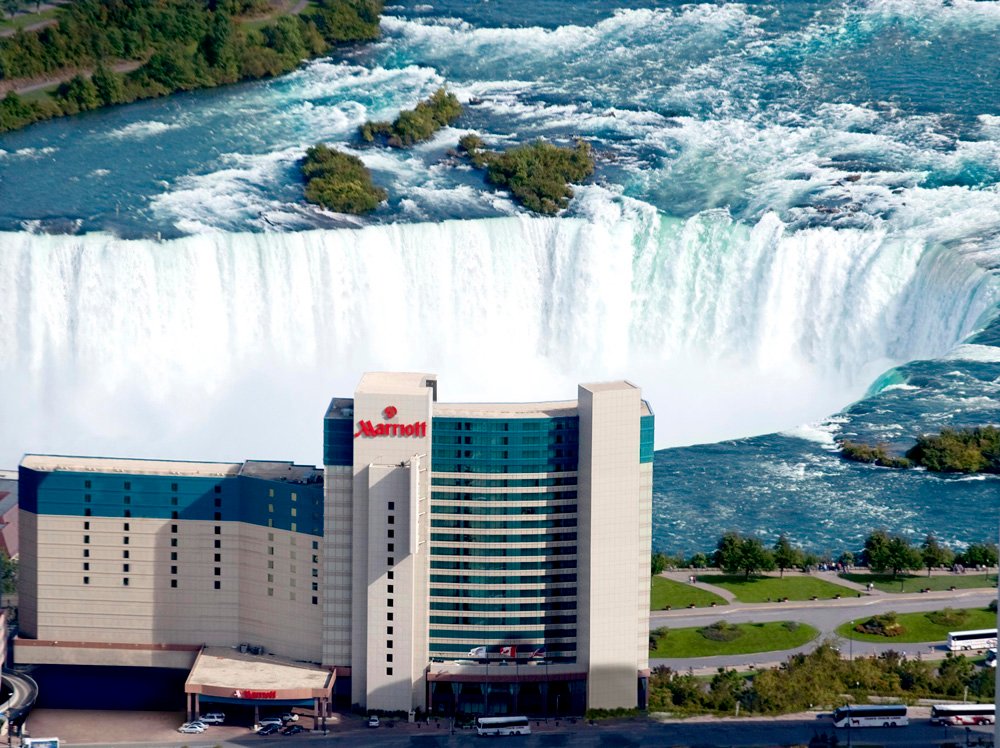 The Niagara Falls Marriott Fallsview Hotel & Spa offers an elegant, luxurious experience with breathtaking views of the falls. The modern interior design promises a high standard of luxury. This hotel is a popular choice for couples seeking romance and newlyweds. many guests may have booked into a suite with a hot tub and extra living space. Those wanting an experience they'll never forget can opt for the ultra-luxury two-level loft suite with an expansive view. Not only are you surrounded by great design, but you can also enjoy the stunning views through its huge floor-to-ceiling windows.
The hotel has a restaurant on-site, which allows guests to enjoy the waterfall's natural beauty without ever leaving the building.
The balconies of the Marriott Fallsview overlook the scenic landscape that is dominated by Niagara Falls. If you're uninterested, or it's too rainy outside, you can visit the nearby Niagara Falls casino to play some slot machines or table games.
If you visit during the winter season, consider upgrading to a room with a fireplace and whirlpool tub. Luxury bedding welcomes travelers near the end of their day. The hotel offers a Starbucks and a restaurant. There is also an indoor pool and spa on site.
3. Hilton Niagara falls Fallsview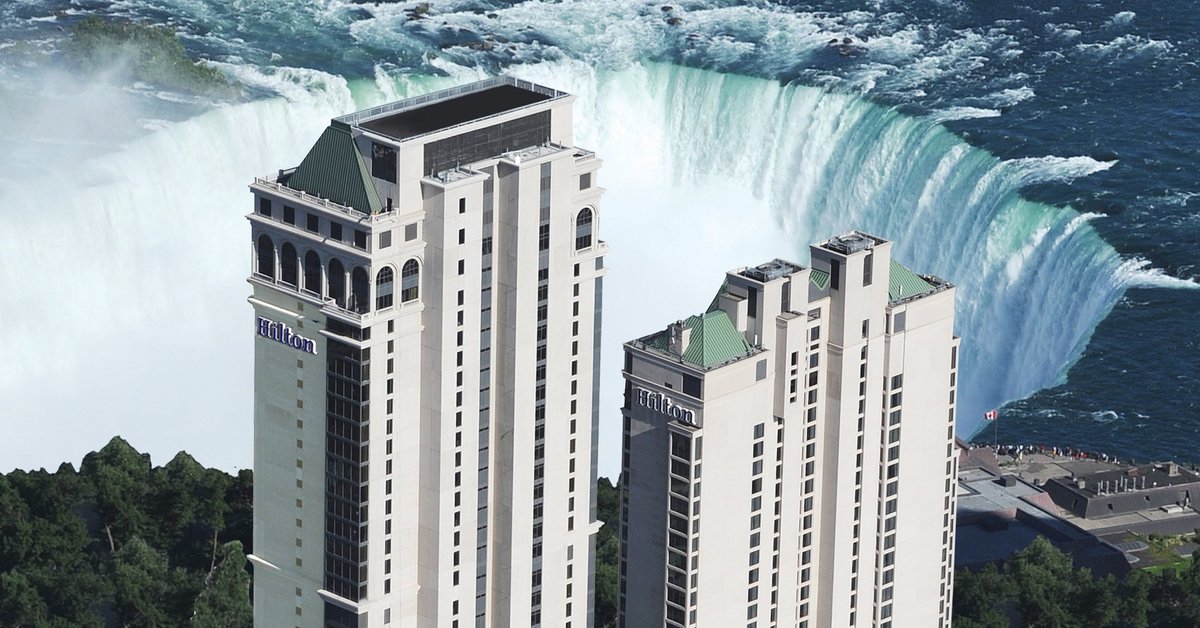 The Fallsview Hilton is the perfect place for families visiting Niagara Falls, Canada. With a stunning view of the falls and an indoor waterpark, they're sure to be able to keep you entertained even on those rainy days. Complete with a 30-foot waterslide and the largest indoor pool in Eastern Canada, they're sure to be able to keep your kids happy too! The hotel features three towers that overlook the awe-inspiring Niagara Falls, providing spacious, family-friendly suites that can sleep up to six people. The resort also provides guests with access to a number of indoor and outdoor amusements, as well as splashtime in the pool for adults and kids alike.
You will be able to walk via the walkway to the Fallsview Casino and have access to the Watermark restaurant, which offers a beautiful view of the falls at night and is conveniently located next door.
4. Sheraton on the falls
You want to forego your morning shower and instead embrace the natural freshness of Niagara Falls. It might sound crazy, but you don't have to get up early in the morning and shower to feel fresh. Just grab a towel and head down to Niagara Fall. You'll be surrounded by nature's freshest scent! just open the floor to ceiling windows, French doors, and sliding glass door in your room at the Sheraton on the Falls hotel and enjoy a relaxing shampoo and condition with help from the mist of Niagara Falls.
The Sheraton Hotel's Fallsview Indoor and Outdoor Pools offer the perfect way to unwind after a long day of sightseeing. With its two pools, the Sheraton has something for everyone from an indoor pool with panoramic views of the Falls to an outdoor pool with seasonal views (weather permitting).
The hotel also has a Niagara Falls classic that is the buffet, and this hotel may not be the cheapest, but it is among one of the best values with a beautiful view of the falls and access to a balcony that lets you get the perfect shot of you standing over the falls, this hotel is perfect for people looking to live in one of Canada's most iconic cities! it might just be worth it. The conference offers a convenient place for those who would like to get caffeinated. Starbucks is located in the lobby.
The best location for tourism in the city is on the tourist promenade. Clifton Hill and iconic Rainbow Bridge pair with the contemporary hostelry and excellent cuisine to make the Sheraton one of your top holiday picks.
5. The Oakes Hotel Overlooking the Falls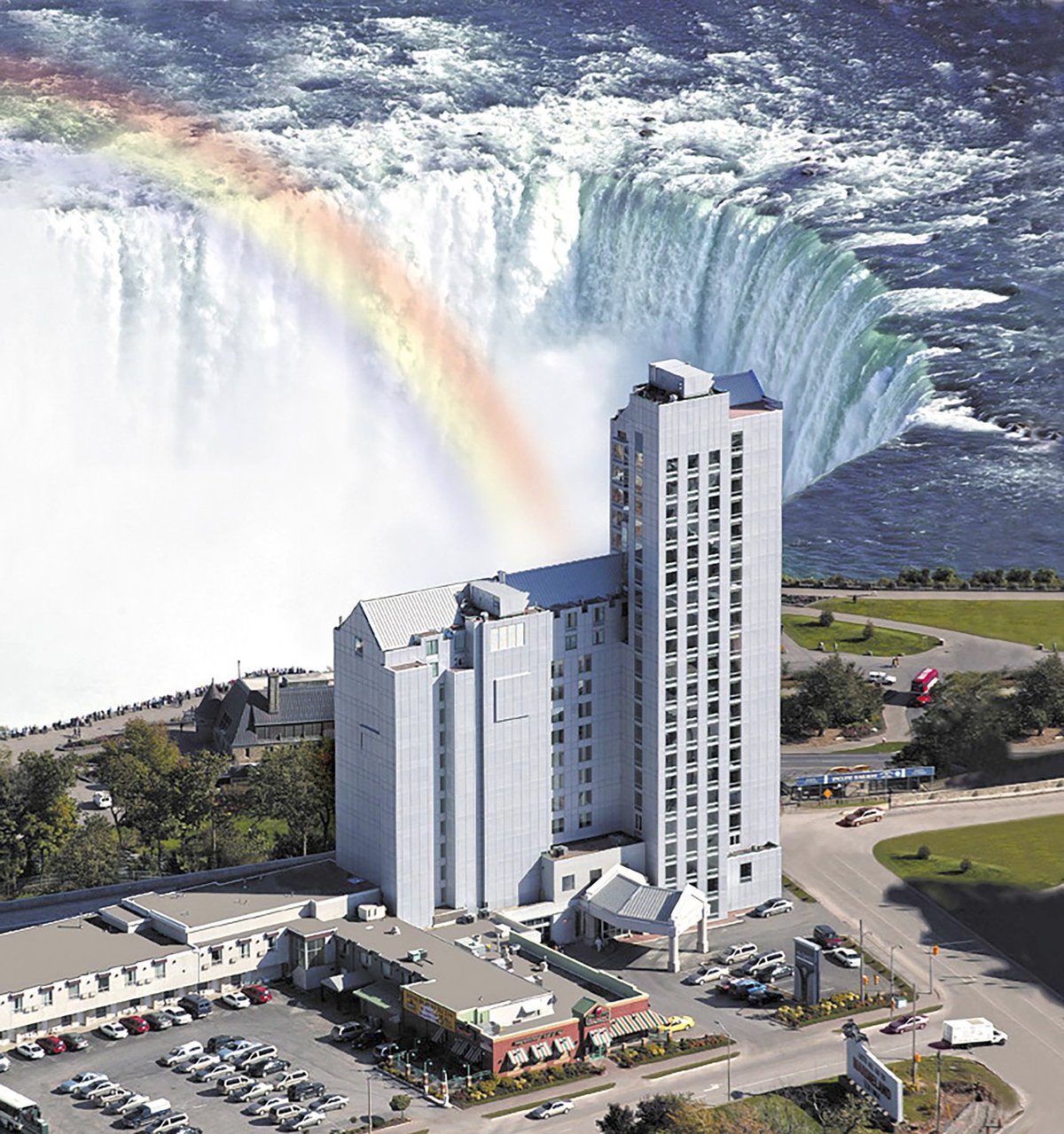 The Oakes Hotel Overlooking the Falls is a 1,500 square foot luxury hotel nestled in the heart of Niagara Falls, Ontario. The hotel features five rooms with views overlooking one of the world's natural wonders, Niagara Falls.
The Oakes Hotel, located on Fallsview Boulevard, has established itself as a popular accommodation among guests that are looking to stay close to the falls and wake up to the view of the American and Horseshoe Falls.
Located just a short walk away from the most popular tourist attractions on Clifton Hill in one direction and Niagara Falls in the other, this renovated hotel offers comfortable, clean & modern accommodations. Being such an impressive hotel, this place has a number of great amenities. You can find comfy bedding, large bathrooms with plenty of amenities, HDTVs for leisure time, free Wi-Fi for work and room service if you're on a longer stay.
The hotel in question has renovated their amenities to include a large heated indoor pool with a jacuzzi and sauna. They also offer free shuttle bus services. Why not make your visit to Skylon Tower an even more memorable experience by ascending to the 14th floor and taking in breathtaking views from the Observation Terrace? You'll get a chance to watch a part of Niagara Falls on the Observation Terrace.
6. Radisson Hotel & Suites Fallsview
Located in the heart of Niagara Falls, a short drive from Niagara Falls State Park and the world's largest hydroelectric power plant, Radisson Hotel & Suites Fallsview offers guests a refreshing escape. With luxurious accommodations and an on-site restaurant with panoramic views of the falls, this four-diamond resort is perfect for romantic getaways.
The Radisson is not too far away from the falls, it's just a short walk from its top. Which means you don't have to put up with as many tourists while you are there. And many people are excited about the fact that it is so close to them, as this means they can enjoy a beautiful view and easy access. They see it as a significant positive because of this.
The hotel is close to public transit and offers a variety of amenities. The hotel provides function rooms, business center, large heated indoor pool with hot tub and a fitness area. There is also a restaurant as well as a gift shop. Valet parking is available on site.
Imagine feeling so comfortable at a hotel that it's hard to leave. The 232 well-appointed rooms and suites at this hotel are made for comfort with luxurious bedding, HDTVs, Wi-Fi and more. Extra-spacious apartments are also available, as are accessible units.
7. The Tower Hotel Niagara Falls
Is well-known for providing an unparalleled experience for guests with its top floor location. Guests get the chance to see the world-renowned Niagara Falls from an unrivalled vantage point which can't be found anywhere else in the region. As a result, this hotel has become a popular spot for travelers looking to capture the beauty of these falls on their next postcard home.
There's no question that room 2709 is going to have a nice view, but we're confident that the views from other rooms are going to be just as satisfying with their giant windows on the outside of the hotel. The Tower Hotel's neon colors and funky furniture make it seem like a boutique hotel. Free Wi-Fi is also offered. they have something for every guest to enjoy.
525 feet in the air, you will find an onsite restaurant, Marilyn's Bistro & Lounge that serves up a locally-infused Mediterranean menu with a variety of vegan, vegetarian and gluten-free options.
8. Niagara Falls Marriott on the Falls
The Niagara Falls Marriott on the falls is a beautiful hotel and resort with stunning views of the falls. The hotel has a variety of amenities for every need. There are two golf courses, tennis courts, and walking trails on site. In addition, there are several restaurant options including an array of dining venues from casual to fancy.
The Marriott Niagara Falls Gateway is a modern hotel located less than 600ft from the edge of the Falls, all of the rooms come equipped with windows that offer an unobstructed view of one of nature's great wonders. Many rooms within the hotel offer intimate seating areas and cozy fireplaces to make the experience feel even more inviting. You can take in the views of the scenic falls as you lounge in a plush chair and soak up the ambiance of your surroundings. Many rooms also have a two-story loft window which gives an incredible view of nature.
9. Crowne Plaza Niagara Falls Fallsview
Crowne Plaza Niagara Falls Fallsview is a conference and resort destination in beautiful Niagara Falls, Ontario. In addition to being the first North American hotel with an indoor waterfall, we provide our guests with spacious accommodations, excellent customer service and a convenient location near attractions and popular destinations.
Located just off Falls Avenue, Canada's most popular entertainment district. So you can take day trips to explore the falls and spend your evenings exploring Falls Avenue's dining and nightlife options. This hotel is 15 minutes on foot from the base of the American Falls, and they have plenty of options for families. Check into one of their spacious suites with a view over the babbling Niagara Fall to make your stay even more enjoyable.
There's a lot to keep kids occupied too! The hotel is right next to the Fallsview Indoor Waterpark, so your children will never get bored. The hotel has a waterpark which is connected to the hotel. This means that parents can enjoy their time while the kids enjoy their time in the waterpark with fun activities. Also, it has a wide variety of restaurants for adults and kid-friendly buffets.
The couples will love staying in one of the numerous romantic falls view hotels here, as they feature cozy bedrooms with scenic views. In addition, they often come with restaurants, shops and other attractions nearby that are worth a look.

Yes, you should choose the room with Fallsview when looking to make a reservation for the best views of Fallsview. You can compare the best deal and best price by clicking here.